See on
Scoop.it
-
Cayo Scoop! Best of Cayo's E-Mag.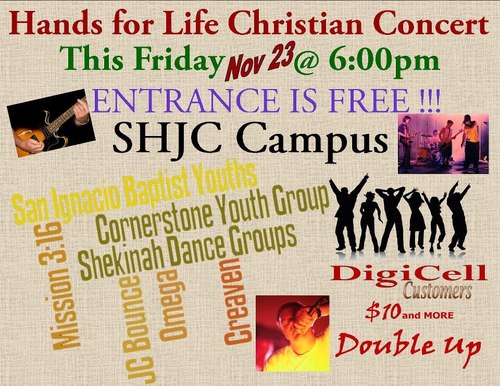 Sacred Heart Junior College's Hands for Life club will be having a Christian concert tomorrow night.  They'll have Mission 3:16, Omega, and Creaven there, along with the Cornerstone Youth Group, the San Ignacio Baptist Youths, and the Shekinah Dance Group.  Digicell will also be on hand to do their double up promotion.  The entrance is free!
"The Hands for Life Club at SHJC is doing a Christian Concert in memory of one of our recent SHJC graduates - Samantha Tzib "STAR".  Food & Drinks will be on sale & a portion of the proceeds collected from the sales will be donated to Samantha's parents.  ENTRANCE IS FREE!!!"
See on facebook.com