See on
Scoop.it
-
Cayo Scoop! Best of Cayo's E-Mag.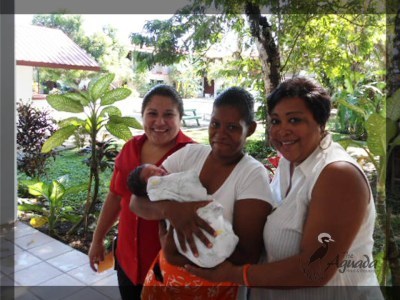 They had a baby at the Aguada!  No, not the proprietors, some guests.  
"They chose to stay at The Aguada Hotel in Santa Elena Town to be close to the hospital, which is a mere 6 blocks from The Aguada Hotel.  With husband, grandmother and midwife in tow, they visited the hospital only to be told that the baby wasn't ready to make its GRAND debut—oh no, she wanted to be different from the moment she entered the world!  Early this morning (October 26), the cramps started again; but this time, they were stronger and harder.  Preparing to leave The Aguada to go to the hospital, Jalima realized she couldn't even sit—the baby was already on its way!  After ONLY 11 minutes of labour, Madelyn Georgiana Gold Leslie entered the world at 1:30 am and is such a beautiful little one!"
See on aguadabelize.com