See on
Scoop.it
-
Cayo Scoop! Best of Cayo's E-Mag.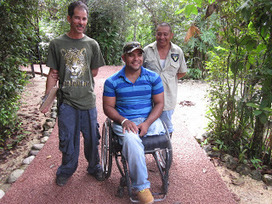 The Belize Zoo is making their walkways more accessible.  They are calling it the SHED project, meaning Stroller-Handicap-Elderly-Disabled, and they plan to be done on December 12th.  They had their SHED consultant, Jerome Flores, out to experience the progress.  Good job, TBZ!
"The contrast between the loose-gravel pathway and the SHED upgrade, is truly something to applaud.  No longer will guests who are not as mobile as some of us, be left out from a fun zoo visit.  There is still much to do, but even with our recent rainy spells, good progress is being made.  At this time, the SHED pathway skirts around the jaguar area of the zoo.  This is because work is currently going on there to provide Black Jaguar Lucky Boy with his new home."


See on tbzblog.blogspot.fr